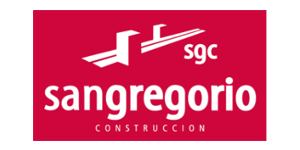 CONTRATAS Y OBRAS SAN GREGORIO is a construction company of Castilla y León, whose initial scope of action was the autonomous community, beginning its journey in 1985. Currently the company develops its activity throughout the national geography, as well as in at international level.
The activity of the company is carried out both in public works and in private works, being a specialist in wide fields of the construction sector, which allows it to provide integral solutions to its clients.
In CONTRATAS Y OBRAS SAN GREGORIO we have developed a culture of business excellence based on the EFQM model and we have an excellent human team formed by graduates, and qualified professionals with extensive experience in the sector and with stable stay in the company. Its adequate training in each of the processes allows us to attend with precision and speed the execution of the works that the company takes charge of.
Our company has the quality certifications UNE-EN ISO 9001: 2015, Environmental UNE-EN ISO14001: 2015 and OHSAS 18001: 2007 certified by AENOR, as well as the CE MARKS of asphalt mixtures and aggregates.
In recent years, the company is carrying out a process of modernization and diversification in the construction sector that has resulted in a significant improvement in the services provided.